Kit For Your Battle Buddy
This is Conan.
Conan took a bomb to the face while chasing Abu Bakr al-Baghdadi through the underground tunnels of his compound in Northwestern Syria that killed both Al-Baghdadi and two of his children.
But Conan is still kicking.
Another famous Belgian Malinois, Cairo, was utilized on the raid to bag Osama Bin Laden. His job was to sniff out bombs and chase down anyone who thought they had a prayer of a chance to bolt from the compound walls to safety.
Dogs like these have been performing roles with our Special Forces for years and years now. They are increasingly seeing service, being pushed down to other units like the Ranger Battalions, and even as bomb sniffers for regular patrol units.
But like anything in the military, no one is considered equipped without some amount of MOLLE gear attached to them. Today we'll do a quick overview of what these pooches are wearing in case you want to kit out your battle buddy.
Basic Items
The first things you're going to want are a collar, lead, and a muzzle. These are the base minimum items for pretty much any dog in general pet ownership. But for those looking to train their dogs in the dark arts, there are some companies that cater specifically to dogs that play in gunfights.
Leads are another important item. They're often made out of very durable nylons and leathers to ensure longevity. They can range anywhere from short 2-foot training leads to operation leads of 50ft which allow the dog to roam.
Lastly, muzzles are good for any situation. But especially for if your dog gets injured. Confused or hurt dogs tend to let their feelings be known with their teeth, and proper treatment for any dog can include muzzling.
The Cool Stuff
You love gear, you love your dog, and they love you. So why not spoil them with functional gear?
A harness is usually the first step taken towards getting your dogs properly kitted out. These come in many forms, and usually they're made of the same cordura and nylon materials as your chest rigs and plate carriers. These can protect dogs from bumps and scrapes in harsher environments, but can also be used to place pouches or satchels.
On long foot movements in military operations, dogs must occasionally carry their own food, treats, and water. These sorts of saddlebag harnesses can be used to help your battle buddy carry just as many chicken tendies as you do when you're operating hard at your local range.
Don't forget to order a correctly sized harness since pups come in all shapes and sizes. Make sure that your dog is comfortable wearing these setups. Read reviews and buy from reputable companies. You do the same for your gear, after all.
Real Protection
As seen on police K9's across the country, some dogs require real protection.
Seen to the left are the PPSS Group's IIIA body armor for dogs, meant to stop some of the more common handgun cartridges out there in the American landscape.
When there is a dangerous situation the cop K9 will often catch a suspect long before the officer does. If the suspect has a knife within reach by an unbitten hand, a stab resistant vest can be an absolute lifesaver for a pup.
Be warned, you'll need to carefully strength train your dog to handle armor. Do your due diligence and perform independent research alongside exercising common sense. Don't be strapping armor to a dog if they weren't bred or raised for such heavy physical activity.
Puppy PPE
Yeah, your dogs are going to need protection as well if you're going to be training with (or around) them.
The K9 Dynamics Barn'n'Boots can be used to protect their pads from rough terrain. This also muffles the sound of an incoming dog by keeping their claws, however trimmed, from clacking on the concrete.
Just as you'd protect your eyes and ears while shooting, you'll want to protect your lil' doggie's extra sensitive eardrums and peepers. You can check out things like Rex Specs or use the same gear as the pros with the Ray Allen Protection Kit for K9's.
Last but not least, you'll need some kind of IFAK. As a dog trainer, former military medic, and certificate holder for the Tactical Veterinary Group's Emergency K9 Medicine courses, I can confidently say that the Triad Medical Training kits for K9's are absolutely the best ready-made solutions out there.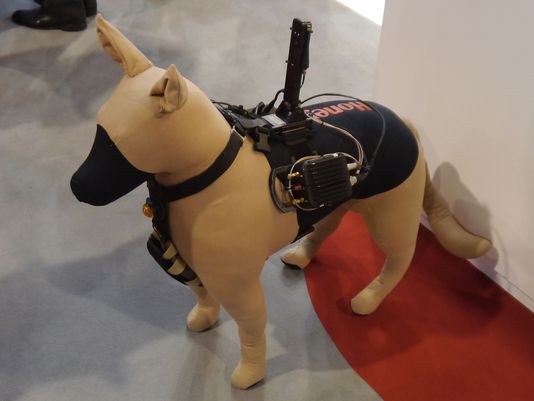 Getting Technical
Coming down the pipeline eventually are experimental items like the K9 C2SA system from Honeywell. These are yet unreleased to the public, but with time, who knows?
From their description: "K9 C2SA stands for "Dog, Command and Control, and Situational Awareness." Honeywell officials said the system includes real time high-resolution video that includes a video stream, day and infrared (IR) illuminated night video, and a recording option. It also has an integrated global positioning system and mapping system. The dog can be located with a remotely controlled IR beacon, IR illuminator, and amber chest light."
In addition to this, ear-pro for tactical dogs can be had with the same connections that your Peltors have, meaning you can set up direct radio comms with your pooch to get your commands heard between shots.
LARP with your PUP
Most of the crazy gear that's out there is likely getting issued by departments or units. So when it comes to finding the latest kit that SF guys are using, good luck.
However, that leaves the door open for a lot of opportunities.
Just make sure to watch your dog for signs of overheating, and don't strap a ton of unnecessary weight to them! Heat exhaustion is the number one issue any working dog faces and the gear is much to do with that. In other words, plan your battle buddy LARP in a reasonable manner.
Whether you have a prized German Shepherd or a dinky Yorkshire Terrier, who doesn't like to look cool? If you've got a kit for you, don't hold out on man's best friend.